How environmentally friendly is Expanded Polystyrene (EPS)?
Is Styrofoam (EPS) environmentally friendly?
The EPS abbreviation stands for 'expanded polystyrene': a characteristic and nearly always white polymers that has already been used for various objectives for more than 40 years. EPS (previously also referred to as Styrofoam) was originally intended to be used as insulation material and is still applied as such the most. EPS is one of the best insulation materials because of an efficient production method and thanks to the unique material structure. Specifically, EPS consists only of approximately 2% polystyrene and 98% air in relation to its volume. This cell structure with trapped air, the best thermal insulation, makes EPS especially suitable as insulation material. EPS is lightweight and therefore easy to process. In addition, it is durable and does not degenerate as times goes by. It is also a monomaterial, which means: consisting of one material type and therefore it is excellent for recycling purposes. It is, moreover, groundwater neutral and is free of chlorofluorocarbons (CFC).
Recycling possibilities within Twinplast
Our own EPS residual material is compressed together to form smaller blocks that are sold for a second life. For example: Insulation.
Residual material from vacuum forms (polystyrene (PS) and polypropylene (PP)) are sorted and ground to produce granulate and reused in our production process. No material is lost throughout this.
CO2 emissions
In 2023, Twinplast will be equipped with 600 solar panels that will reduce our CO2 footprint by 70%.
Twinplast has the ambition of being CO2 neutral by 2025.
What happens when we compare it with cardboard?
Many believe that it is more environmentally friendly to package and ship products in cardboard. Cardboard, after all, is made from cellulose produced from wood pulp and is 'therefore' environmentally friendly? It is also easy to recycle. Styrofoam can also be recycled perfectly. In addition, it also has a number of other excellent properties as packaging material. The protective and shock-absorbing properties of Airpop® are a lot better than that of all other packaging materials. Airpop® is also insensitive to moisture. We look at the entire supply chain from production to delivery to the client. The limitation of transport damage plays an important role within this. It has been proven again and again that this is zero in relation to products packaged in Airpop®. This saves quite some raw materials, energy and very many extra kilometres. Bear in mind that the replacement of your new, damaged TV does not come from the shop in your town but often from the Far East.
What about if we charge for the entire life cycle of styrofoam and cardboard?
In addition, professionals also check out the life cycle analysis (LCA) of the packaging itself. This concerns issues such as the total energy consumption that is required to produce this packaging, the weight and the volume that it adds to the load and the option of again easily recycle the packaging after use. Styrofoam at least scores as well as cardboard in this area too. To produce and recycle paper, 70 to 115 percent more energy is also required than for the production of Airpop® as well as a large quantity of fresh water, which results in 3 to 4.5 times more of CO2 emissions (InFo Kunststoff, 1995).
Another frequent idea is that paper can be recycled infinitely. That is not the case. Paper and cardboard consist of fibres that become shorter each time they are recycled until they can no longer be used. This is usually 6 to 8 times. Afterwards, new material needs to be mixed with it. Airpop® is usually used at a higher level in the supply chain in a second life and therefore it continues to save on energy for dozens of years after the initial use in buildings as insulation material. The only thing households need to do is to collect it as you do with other residual substances. The decision to use cardboard anyway is therefore a lot less due to the facts than the image that the consumer has.
The recycling of residual Airpop® in the Netherlands is constantly improving, but, when compared to the collection of, for example, glass, it remains overlooked amongst the general public. In 2005, however, 54% of residual EPS was collected. This became 64% eight years later in the Netherlands. This is a good performance when compared to other polymerss. This was recycled for 42% in the Netherlands in 2012. Airpop® is therefore on the right road. The most benefit is still to be achieved through the collection by households. Municipalities can play a significant role in this. This is important because used Airpop® is not waste, but, on the contrary, a raw material that can save much energy in terms of a period of years as a high-quality insulation material as a second life.
Why should we sort styrofoam?
Residual Airpop® is voluminous and weighs nearly nothing. This means that it is inefficient to dispose of it via household waste. This is not just wasteful of raw materials, but it is also expensive. Processing a container full of residual waste costs a lot of money. If it contains Airpop® lumps, it will be full very quickly. Municipalities have come to realise this more and more. A municipality that collects EPS via the waste recycling centre, saves one full container in relation to every 20 containers if it has a separate intake policy. Recycling will certainly be continued during the coming years.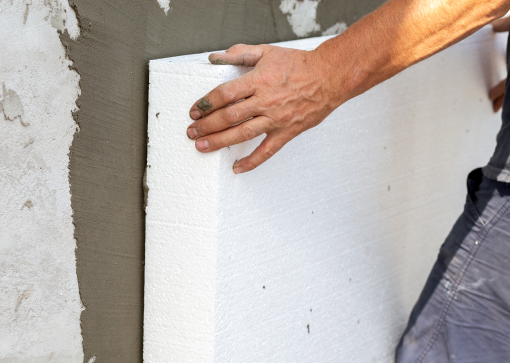 How is styrofoam recycled?
Styrofoam is recycled in two ways: shredded or compacted. In the first case, the residual material is checked for foreign objects and subsequently crumbled and then ground until obtaining the level of the original EPS beads. If required, they are filtered and sieved based on size. The material that is created in this way can again be added to the production of new EPS without any further processing whatsoever. This method is suitable for all Airpop® in relation to packaging, moulded parts and insulation material. Most of the recovered EPS beads finds its way into the insulation of homes and is therefore in fact being given an added value. A corner protector will, for example, be upgraded in this way into a high-quality insulation material that ensures that a home owner will save on the gas bill during the entire service life of his/her home!
In relation to the second way, the collected residual Airpop® is compacted. The advantage of this is that the recovered polystyrene can be transported in compact format as a raw material for the production polymers parts. These parts can, after use, again be easily recycled through the collection of polymers. This means that Airpop® and polystyrene are reused and nothing is lost as is the case with metal.
Summary from: http://stybenex.nl/wp-content/uploads/2015/03/90771-EPS-Airpop-folder-3luik-V9-tbv-website.pdf
For more information about the environmentally friendliness, you can go to Stybenex, the association of EPS producers in the Netherlands.
Request a quote without obligation
Are you interested in what we offer? Receive a quotation without obligation to determine whether we can help you.